May 2018
| Sun | Mon | Tue | Wed | Thu | Fri | Sat |
| --- | --- | --- | --- | --- | --- | --- |
| | | 1 | 2 | 3 | 4 | 5 |
| 6 | 7 | 8 | 9 | 10 | 11 | 12 |
| 13 | 14 | 15 | 16 | 17 | 18 | 19 |
| 20 | 21 | 22 | 23 | 24 | 25 | 26 |
| 27 | 28 | 29 | 30 | 31 | | |
Calendar

Visitor and Stalker
Dreamer
You are visitor #

Okay the title is kinda perverted in my opinion. Anyway, just soem weird title I got here ^^
Because Yoochun N Jaejoong composed Hello Kitty's 35 Anniversary Song aka Colors Harmoney Love~, the hello kitty they are holding got Jap Cassie's attention.
The Jap. Cassie got into the store once it opened and rushed into the store.
Attention! They didn't even greet the sales person.
They asked for the red/purple Hello Kitty Yoochun/JJ was holding.
Red/Purple Hello Kitty was gone in 10 mins. Wow
After that, Jap Cassie got the info that the HK got restocked
They went back of course!
BUT THE PURPLE IS GONE! ONLY 4 RED, 2 GREEN, 6 YELLOW LEFT.
OMG OMG I WANT THAT PURPLE ONE SO BAD, BUT I GUESS WE HAVE TO WAIT FOR THE RESTOCK.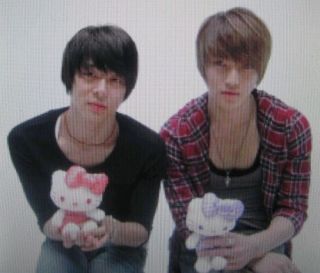 Credit: KJJ.Baidu
Translate by me~~
_________________
Have you ever loved like this?
Endlessly waiting and wanting for one person
A love like romance movie
Babo, Kim Jaejoong!!! >.<
A
Precious
person with
no replacement
, No one can be your
substitute
, my
Precious
you, you can believe in this,
Kim Jaejoong
i want the pink one <3
& wow, that is scary . but funny . LOL
_________________
© daesungvip | baby yoogeun is simply love ♥

---
Permissions in this forum:
You
cannot
reply to topics in this forum